Institute Cargo Clauses A / B / C – a comparison
Sunday, August 26, 2012, 22:19
Please download here "Bedah Polis Institute Cargo Clauses A / B / C" to read or print document in pdf version
Institute Cargo Clauses A / B / C – a comparison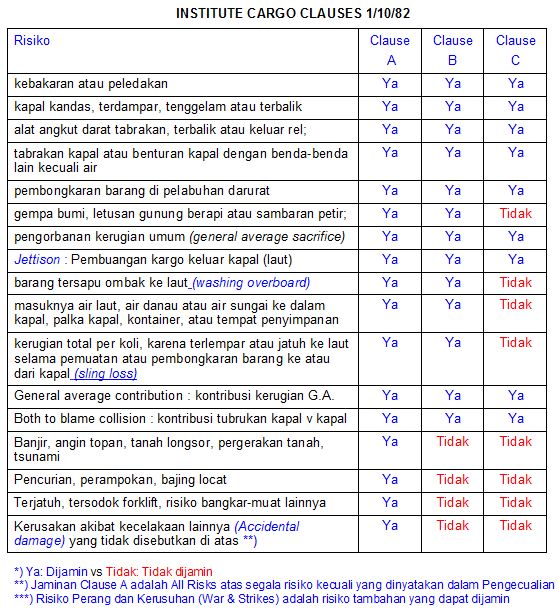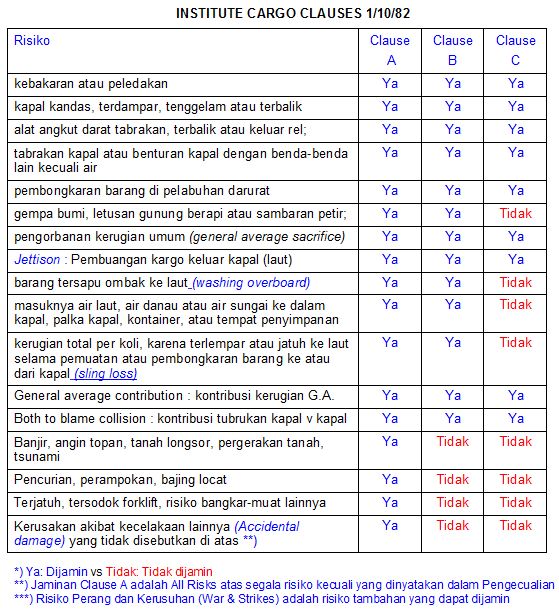 RISKS COVERED
Institute Cargo Clauses A / B / C atau untuk PSAPBI Jaminan Satu / Dua / Tiga dalam versi bahasa Indonesia, adalah untuk jaminan asuransi pengangkutan barang-barang general cargo baik dalam kontainer maupun curah seperti besi-besi, kain, beras, makanan dan minuman dan sebagainya
Baca selengkapnya : ·Asuransi Pengangkutan Barang (Marine Cargo Insurance) – bahasa Indonesia
Institute Cargo Clauses A / B / C sama-sama menjamin kerugian sebagian (partial loss) maupun kerugian total (total loss) bedanya adalah pada risiko / penyebab kerugian yang dijamin (perils insured against). Risiko (perils insured) dalam ICC A adalah yang paling luas, ICC B lebih sempit sedangkan ICC C yang paling sempit.
Jaminan Clause A adalah All Risks atas segala risiko yang bersifat accidental damage kecuali yang dinyatakan dalam Pengecualian Polis (ICC), sedangkan Clause B dan Clause C hanya menjamin risiko-risiko tertentu yang disebutkan di atas, selain dari risiko-risiko tersebut tidak dijamin.
Apa bedanya "reasonably attributable to" vs "caused by" ?
***) Risiko Perang dan Kerusuhan (War & Strikes) adalah risiko tambahan yang dapat dijamin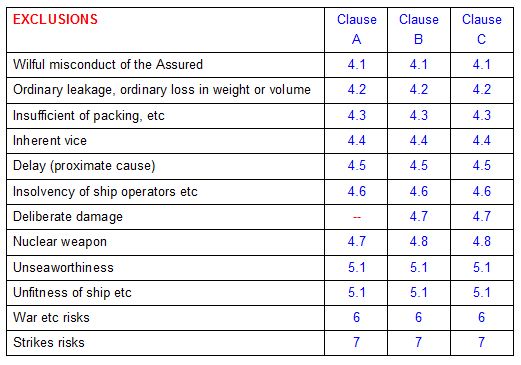 Terima Kasih
Any inquiry please give me a call
 IMAM MUSJAB, SE, AAIK, QIP
Email: imusjab@qbe.co.id or imusjab@gmail.com
 Website: www.AHLIASURANSI.com
 HP: +628128079130
Wordings & Clauses Asuransi Pengangkutan Barang (Marine Cargo Insurance)
– download here
Baca lebih lengkap tentang:
Untuk konsultasi dan keterangan lebih lanjut, silakan hubungi:
Imam MUSJAB – Telp: +628128079130 – Email: imusjab@qbe.co.id  or  imusjab@gmail.com
About the Author
6 Comments on "Institute Cargo Clauses A / B / C – a comparison"
Write a Comment
Gravatars are small images that can show your personality. You can get your gravatar for free today!