Marine Professional Negligence Insurance (MPI) Policy
Tuesday, January 10, 2012, 21:52
Marine Professional Negligence Insurance (MPI) covers professionals in marine industry for negligent acts, errors or omissions
in services performed to the third parties (insured services)
Who need MPI in the Marine Industry?
All professionals in marine industry such as Marine Surveyors, Average Adjusters, Ship Agents, Ship Manager / Operator, ISM Designated Persons, and Other Consultants.
What does MPI Policy cover?
It's a combination of Professional Indemnity and Public Liability Covers, It consist of:
Section 1: Professional Indemnity Cover
Section 2: Third Party Legal Liability
Section 3: Claims Expenses
Section 1: Professional Indemnity Cover
It covers liability arising out of negligent acts, errors or omissions in service performance, fraud by employees, libel and slander, infringement of personal rights, and un-intentional breach of warranty.
Section 2: Third Party Legal Liability
It covers an accident causing Third Party Bodily Injury (TPBI), and Third Party Property Damage (TPPD), and also for Third Party Consequential Loss (TPCL) directly arising from such a Claim.
Section 3: Claims Expenses
It covers Claims Expenses incurred in investigating, minimizing or defending a Claim.
Claim Made Basis
MPI is a Claim Made Basis Policy. What is a Claim Made Basis Policy? Click here
In order to be claimable under this policy, there must be a negligent act, error or omissions, must be in the provision of a professional advice, must act within the professional boundaries, must come from a unrelated party, must be on Claims Made Basis or within retroactive date.
Typical Exclusions
Off-course MPI contains number of typical exclusions i.e. Prior known claims / circumstances, Fraud & dishonesty, Claims by related or associated entities, Fines and penalties, Duties assumed beyond reasonable / accepted professional standards, Services performed in areas outside of expertise and the like.
How to obtain a Quote?
You will need to complete a "Proposal Form" supported by Company Profile and Financial Report for review
Any inquiry please give me a call at +628128079130 or email at imusjab@qbe.co.id or imusjab@gmail.com
By Imam MUSJAB; Source: QBE Marine Professional Negligence Insurance Policy
Need Liability Insurance? Ask QBE
Comprehensive General Liability
Professional Indemnity Insurance
Directors & Officers Insurance
Association Liability Insurance
Freight Forwarders Liability Insurance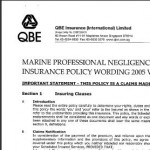 About the Author
4 Comments on "Marine Professional Negligence Insurance (MPI) Policy"
Write a Comment
Gravatars are small images that can show your personality. You can get your gravatar for free today!