Institute Coal Clauses – a comparison to ICC "B" and "C"
Sunday, August 26, 2012, 11:42
Batu bara (Coal)
Please download here "Bedah Polis Institute Coal Clauses" to read or print document in pdf version
Yang khusus dari Asuransi pengangkutan batu bara adalah sifat dari batu bara (coal) yang dapat terbakar sendiri (spontaneous combustion), moda pengangkutannya yang biasanya dengan tongkang dan tug boat yang sangat rentan terhadap dua risiko utama yaitu shortage dan washing overboard.
Institute Coal Clauses – a comparison to the Institute Cargo Clauses "B" and "C"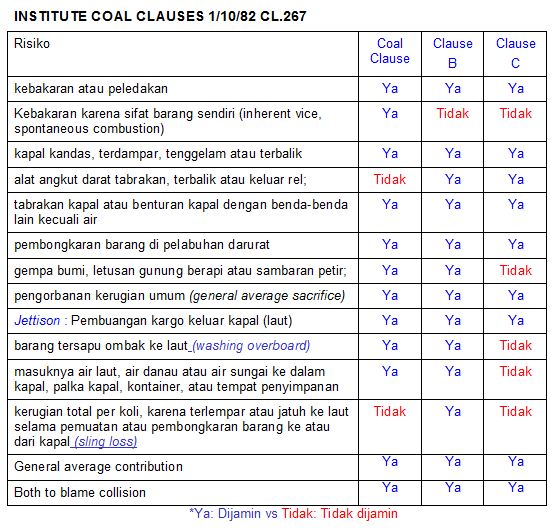 Institute Coal Clause
Apakah "spontaneous combustion" dijamin?
Apakah "shortage" dijamin?
Apakah "washing overboard" dijamin?
Fire explosion or heating
Tertanggung cukup menunjukkan bahwa kerusakan atau kerugian adalah akibat wajar dari (reasonabley attributable to) kebakaran atau ledakan, The cause of the fire or explosion is immaterial, provided it is not caused by one of the excepted perils (eg. war risks or willful misconduct of the assured)
Overturning or derailment of land conveyance
alat angkut darat tabrakan, terbalik atau keluar rel: Mengapa tidak dijamin dalam "Coal Clause"?
Washing over board
Tertanggung harus membuktikan bahwa kargo "washed overboard" dan bukan "lost overboard".
Sling loss
kerugian total per koli, karena terlempar atau jatuh ke laut selama pemuatan atau pembongkaran barang ke atau dari kapal dijamin di Clause B tetapi tidak dijamin di Clause C. Mengapa tidak dijamin dalam "Coal Clause"?
Inherent vice
Mengapa tidak ada pengecualian "inherent vice" dalam "Coal Clause"?
DURATION
8.      8.1   This insurance attaches as the subject-matter insured is loaded on board the oversea vessel at the port or place named herein for the commencement of the transit, continues during the ordinary course of transit and terminates as the  subject-matter insured is discharged overside from the oversea vessel at the destination named herein.
Jangka waktu berlakunya asuransi
Asuransi ini mulai berlaku sejak saat kargo dimuat diatas kapal di pelabuhan atau tempat yang disebutkan sebagai awal dimulainya perjalanan, berlaku terus selama perjalanan yang wajar dan berakhir pada saat kargo selesaidibongkar dari kapal di pelabuhan pembongkaran tujuan yang disebutkan di polis.
CL.267
Terima Kasih
Any inquiry please give me a call
 IMAM MUSJAB, SE, AAIK, QIP
Email: imusjab@qbe.co.id or imusjab@gmail.com
 Website: www.AHLIASURANSI.com
 HP: +628128079130
Wordings & Clauses Asuransi Pengangkutan Barang (Marine Cargo Insurance)
– download here
Baca lebih lengkap tentang:
Untuk konsultasi dan keterangan lebih lanjut, silakan hubungi:
Imam MUSJAB – Telp: +628128079130 – Email: imusjab@qbe.co.id  or  imusjab@gmail.com
About the Author
Write a Comment
Gravatars are small images that can show your personality. You can get your gravatar for free today!