Asuransi asal Norwegia gugat INCO
Wednesday, September 21, 2011, 6:43
PT International Nickel Indonesia Tbk (INCO) dan anak usahanya sedang menuai gugatan di Pengadilan Negeri (PN) Jakarta Selatan. Perusahaan nikel ini digugat oleh perusahaan asuransi asal Norwegia, Assuranceforeningen SKULD.
INCO dengan anak usahanya dianggap lalai ketika melakukan bongkar muat sulfur curah sebanyak 22.000 metrik ton. Kelalaian ini mengakibatkan perusahaan asal Norwegia ini merugi.
Dari berkas gugatan ini, INCO sebenarnya bukanlah pihak yang langsung berhubungan dengan SKULD. Namun, yang menjadi nasabah SKULD adalah Jebsens Trans-Pacific Shipping Service.
Perusahaan ini yang mengangkut sulfur curah milik INCO. Kapal pengangkutan tersebut milik milik perusahaan lain, yakni San Juan Navigation Corporation.
Awal mula gugatan ini adalah pada saat kapal pengangkut sulfur curah ini tiba di Pelabuhan Malili, Sulawesi Selatan pada 6 Desember 2008. Anak usaha INCO yakni PT INCO Balantang Malili melakukan bongkar muat sulfur ini.
Namun, ketika dilakukan bongkar muat, terjadi insiden yang mengakibatkan salah satu crane alat bongkar muat dari kapal milik San Juan Navigation Corporation mengalami kerusakan.
Terhadap kerusakan kapal itu, San Juan Navigation lantas mengajukan klaim kerusakan kapal kepada Jebsens Trans-Pacific senilai US$ 337.892. Nilai gugatan itu masih ditambah dengan bunga bank, serta biaya perbaikan kapal.
Awalnya, perusahaan penyewa kapal ini menolak membayar klaim ini. San Juan Navigation pun mengajukan masalah klaim ini ke Badan Arbitrase di London, Inggris. Putusan arbitrase mewajibkan Jebsens Trans-Pacific membayar klaim tersebut. Setelah dibayar ke San Juan, barulah Jebsens Trans-Pacific mengajukan klaim kepada perusahaan asuransi asal Norwegia itu.
Berbekal dua laporan
Setelah urusan klaim dua perusahaan itu selesai, ternyata SKULD masih tetap tidak rela mengganti uang kerusakan kapal itu. Alasannya, ada beberapa laporan yang menyatakan bahwa kerusakan crane itu diakibatkan oleh kelalaian dari INCO.
Ada dua laporan yang menjadi dasar SKULD, yakni dari surveyor independen, PT Probe Marine pada 9 Desember 2008, serta laporan dari Merid-Argo Maritime Service Pte Ltd Singapore. Kedua laporan itu menyatakan bahwa kerusakan kapal itu akibat dari kelalaian INCO dan seorang operator jasa bongkar muat bernama Fajar Usrat.
Dengan bekal dua laporan itu, SKULD pun mengajukan gugatan. Asuransi ini merasa ada bukti yang menunjukkan jika INCO dan anak usahanya telah melakukan perbuatan melawan hukum.
Dalam perkara ini juga, SKULD sudah mengirimkan surat teguran kepada INCO agar membayar ganti rugi. Namun surat teguran itu tidak direspon oleh INCO.
INCO merasa tidak mempunyai hubungan hukum dengan SKULD. Akhirnya gugatan ini pun dilayangkan ke pengadilan. Selain menuntut pembayaran ganti rugi, perusahaan asuransi Norwegia itu juga meminta pengadilan menetapkan sita jaminan terhadap dua kapal milik INCO. "Kami minta agar para tergugat secara tanggung renteng membayar kerugian dan bunganya," ungkap Elisa P Simanjuntak, Kuasa Hukum SKULD.
Tuduhan dari perusahaan asuransi itu dibantah oleh INCO. Kuasa Hukum INCO, Luhut Marihot Pangaribuan, menilai bahwa apa yang dituduhkan oleh SKULD itu tidak benar. "Tidak ada unsur kesengajaan dalam kerusakan alat bongkar muat tersebut," tandas Luhut.
Dicopy dari:
http://investasi.kontan.co.id/v2/read/1312249152/74349/Asuransi-asal-Norwegia-gugat-INCO
sumber lainnya:
http://202.72.218.170/news/read/40353/20110813/115117/INCO-Digugat-Jebsens-US-337-892.html
Komentar: sudah seharusnya perusahaan jasa angkutan / transportasi memiliki "Transport Operators Liability" atau "Terminal Operators Liability" untuk jasa ke-pelabuhan-an.
Baca juga:
"Transport Operators Liability"
"Terminal Operators Liability"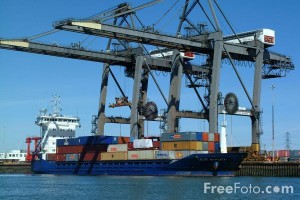 About the Author
6 Comments on "Asuransi asal Norwegia gugat INCO"
Write a Comment
Gravatars are small images that can show your personality. You can get your gravatar for free today!