Asuransi Liability untuk konser musik dan teater (Liability insurance for live music / theatre concerts)
Thursday, March 10, 2011, 22:08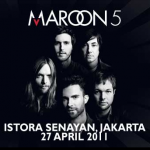 Secondhand Serenade, N.E.R.D (No-one Ever Really Dies), Four Year Strong dan Set Your Goals, Iron Maiden, Bring Me The Horizon, Santana, Fourplay, Corinne Bailey Rae, dan Acoustic Alchemy: Stone Temple Pilots, Justin Bieber, David Foster, Maroon 5, A Rocket to the Moon, Hey Monday, dan The Downtown Fiction, dan banyak lagi konser musik kelas dunia digelar di Jakarta.
Penyelenggara (Event Organizer) Konser Musik / Teater kelas dunia seperti Java Musikindo, Ismaya Group, dan sekelasnya pastinya diwajibkan untuk membeli polis asuransi tanggung gugat hukum (Liability Insurance) untuk melindungi kepentingan kliennya.
Asuransi apa saja yang diperlukan untuk konser musik / teater?
Klien sekelas artis atau manajemen international pastinya didalam kontraknya mensyaratkan perlindungan asuransi yang komprehensive dengan Limit of Liability yang sangat besar, umumnya mencapai US$10,000,000 bahkan lebih. ya..wajar saja melihat siapa mereka.
Event Cancellation & Non Appearance (Professional Indemnity)
Asuransi yang diantaranya menjamin tanggung jawab hukum atas pelanggaran terhadap kontrak, pembatalan konser, dan pelanggaran-pelanggaran profesionalisme lainnya. Bayangkan berapa besar kerugian yang bisa ditimbulkan akibat dari pembatalan konser baik bagi artist maupun bagi penyelenggaranya?
Public & Product Liability (CGL)
Asuransi yang menjamin tanggung jawab hukum terhadap cidera badan (kematian, cacat, biaya pengobatan), kerugian harta benda (property damage) dan juga biaya-biaya hukum yang mungkin timbul akibat aktivitas persiapan dan pelaksanaan konser
Workmen Compensation & Employers Liability (WoC/EL)
Asuransi yang menjamin kecelakaan pekerja dalam persiapan dan pelaksanaan konser. Para pekerja biasanya harus bekerja ekstra cepat untuk mengejar deadline.
Automobile Liability
Asuransi yang menjamin tanggung jawab hukum akibat penggunaan atau operasional kendaraan dalam mendukung acara tersebut.
Personal Accident
Asuransi untuk memberikan santunan terhadap kecelakaan baik untuk "Performing Artists" maupun terhadap para penontonnya
Berapa Preminya?
Besarnya premi asuransi tentu tergantung dari banyak faktor, konser indoor atau outdoor, kapasitas ruangan, estimasi jumlah penonton, factor keamanan, berapa lama konser diselenggarakan, besarnya limit of liability yang diminta, siapa penyelenggaranya, siapa performing artists nya, siapa penonton nya, bahkan jenis aliran musiknya, jazz, pop, rock, blues atau dangdut hahaha…
Asuransi mana saja yang bisa cover?
Hampir semua perusahaan asuransi nasional bisa cover jenis asuransi tersebut, kecuali untuk Event Cancellation & Non Appearance (Professional Indemnity) kayaknya baru asuransi asing sajalah yang berani, namun mengingat Limit of Liability yang diminta umumnya US$ 10,000,000 atau bahkan lebih, mungkin pilihan anda semakin sedikit lagi, apalagi untuk jenis asuransi Liability mungkin anda harus menghubungi kami di QBE (haha..bukan pesan sponsor)
By Imam MUSJAB – Call +628128079130 – E: imusjab@qbe.co.id
About the Author
2 Comments on "Asuransi Liability untuk konser musik dan teater (Liability insurance for live music / theatre concerts)"
Trackbacks
Write a Comment
Gravatars are small images that can show your personality. You can get your gravatar for free today!