Aggregate Deductible – Bagaimana penerapannya?
Wednesday, April 8, 2015, 21:07
Dalam beberapa penutupan asuransi, terutama asuransi harta benda (property) sering ada penerapan aggregate deductible, menurut teori AAMAI penerapan aggregate deductible sbb:
(dari materi AAMAI 105 Bab 9) 
E1  Aggregate Deductible
Alasan Perusahaan Asuransi mengenakan deductible mungkin karena pengalaman klaim tertanggung yang buruk. Biasanya untuk melindungi keuangan terkait hal itu maka dikenakan deductible aggregate. Deductible Aggregate ini memaksakan batas atas dari jumlah yang mereka akan bayar dalam jangka waktu asuransi. Penanggung menetapkan nilai seluruhnya dengan setidaknya 4 kali deductible atau lebih (misalnya).
Umumnya, tertanggung akan mengatur jaminan sehingga mereka tidak mengajukan klaim kecil. Hal ini sering dikenal sebagai 'worker' atau 'working excess. Dengan banyak perusahaan besar setiap anak perusahaan bertanggung jawab untuk mendanai biaya-biaya klaim dari anggaran sendiri. Working Excess`'dapat membantu bertindak sebagai alat manajemen risiko dan menanamkan kesadaran yang lebih besar dan perawatan oleh karyawan dan manajemen
Jadi, bagaimana deductible ini benar-benar bekerja?  Mari kita lihat contoh berikut.
Deductible dari £20,000

Aggregate Deductible £100,000.

Working excess £1,000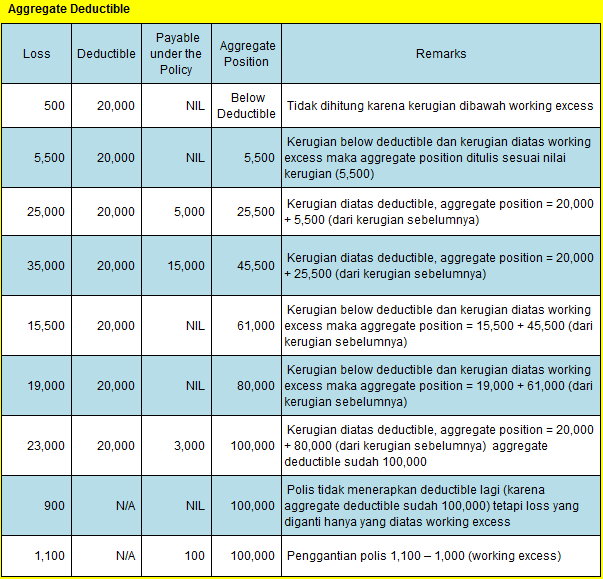 Selain dalam Asuransi Harta Benda (Property), Aggregate Deductible juga dapat dijumpai dalam Asuransi Kesehatan (Helath Insurance), Bisa dibaca di sini:
What Is an Aggregate Deductible & How Does It Work?
Aggregate Vs. Embedded Deductible – What Is The Difference?
About the Author
Write a Comment
Gravatars are small images that can show your personality. You can get your gravatar for free today!