Piracy di Asia Tenggara
Saturday, May 21, 2016, 21:31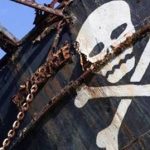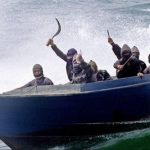 "The Most Dangerous Waters in The World" (http://www.time.com)
"The World's Most Pirated Waters" (http://www.ncbc.com)
Di era moderen, kawasan Asia Tenggara pertama kali menjadi "hotspot" serangan pembajakan di pertengahan tahun 1970, ketika pengungsi Vietnam memikul penderitaan di tangan pembajak Thailand. Namun, tidak semua perairan diganggu oleh pembajak, sehingga yang disebut "hotspot" pembajakan berpindah-pindah ke perairan yang berbeda setiap waktu.
Antara tahun 1990 dan 1992, perairan antara Selat Malaka & Singapura diidentifikasi sebagai daerah rawan pembajakan, tapi setelah dilakukan patroli gabungan anti-pembajakan maka fokus pembajakan pindah ke Laut Cina Selatan, khususnya di wilayah yang disebut "HLH terror-triangle", yang meliputi Hongkong, Luzon & Hainan, dimana penyerangan dengan porsi yang tinggi dilaporkan sejak tahun 1993 s/d 1995. Sekitar pertengahan tahun 1990an, insiden penyerangan di perairan Filipina dilaporkan meningkat, yaitu 24 kejadian (1995) dan 39 (1996). Sedangkan di Thailand terjadi 16 insiden (1996) dan 17 (1997), tapi jumlah ini dibayang-bayangi oleh tingginya laporan penyerangan di wilayah Indonesia yang sebagian besarnya adalah pencurian kecil & sering terjadi di pelabuhan.
Pembajakan di Selat Malaka paling mendapatkan perhatian internasional ketika terjadi 2 serangan aktual di tahun 1999 & meningkat jadi 75 (2000), namun turun di tahun 2001 menjadi 17, 16 (2002), 28 (2003), 37 (2004), 12 (2005) dan 11 (2006).
Berdasarkan data yang dikeluarkan oleh IMB selama periode 10 tahun sejak tahun 2006 s/d 2015, statistik "piracy" yang pernah terjadi di perairan Asia Tenggara, Selat Malaka dan Indonesia dapat dilihat di copas tabel pada kolom komen di bawah.
Dengan statistik seperti di atas, maka wajar serangan di wilayah Asia Tenggara ini menjadi perhatian karena posisi strategis Selat Malaka sebagai salah satu alur tersibuk di dunia yang dilewati 60.000 s/d 94.000 kapal setiap tahunnya yang membawa 1/3 perdagangan di dunia.
Di kawasan Asia Tenggara, "piracy" dapat dikelompokan jadi 2 golongan, yaitu:
Perompak oportunis, yang melibatkan serangan-serangan dengan skala kecil.

Kelompok pembajak teroganisir, yang melakukan pembajakan skala besar.
Pembajak kategori pertama dilakukan oleh "common sea-robbers" yang mayoritasnya melakukan serangan "hit and run robberies". Tidak seperti pembajak Somalia, yang tujuannya mendapatkan ransom, pembajak di Asia Tenggara yang termasuk kategori pertama ini berusaha mencuri minyak, CPO dan bahan kimia. Setelah berhasil mendapatkan barang curiannya kapal dilepaskan oleh pembajak. Atau di beberapa kasus pembajak naik ke kapal untuk mengambil uang tunai milik ABK, suku cadang mesin, komputer atau peralatan berharga lainnya di atas kapal.
Sedangkan kategori yang kedua dilakukan oleh kelompok yang lebih teroganisir atau sindikat yang menyerang kapal-kapal ukuran medium atau besar. Dalam kategori ini, kapal dan abk ditahan untuk beberapa waktu dan kapalnya dikuasai untuk dijadikan sebagai "phantom ship".
Apapun, kedua kelompok pembajak itu dapat melakukan penyerangan karena mereka memanfaatkan kekurangan daya dukung lingkungan maritim & perkembangan sosial politik dan ekonomi yang kondusif dalam mendukung serangan tersebut, yaitu:
a) Penangkapan ikan yang berlebihan.
b) Longgarnya regulasi maritim.
c) Keberadaan sindikat organisasi terlarang.
d) Kehadiran kelompok garis keras di kawasan.
e) Penyebaran kesejahteraan yang tidak merata.
Bagaimana "Piracy" di Indonesia
Majalah Forbes versi online edisi Agustus 2013 pernah menulis headline Indonesia sebagai "The World's Most Dangerous Waters" yang mengambil alih rumah bagi pembajak dari perairan Somalia dan Teluk Aden. Menurut penulis buku "Chez les pirates d'Indonesie", Eric Frecon, seorang asisten profesor di Akademi Angkatan Laut Prancis, menyebut berpindahnya pembajak lebih karena masalah pragmatis karena meningkatnya patroli militer di Somalia dan Selat Malaka.
Gambarannya adalah, dengan mengacu ke laporan dari Piracy Reporting Center IMB, pada tahun 2012 ada sekitar 297 kejadian serangan pembajak di seluruh dunia, 81 serangan terjadi di Indonesia, sedangkan di Somalia hanya 75 kejadian. Figur ini akan kelihatan lebih buruk jika dilihat dari konteks penurunan di belahan lain dunia dari tahun sebelumnya yang dilaporkan sebanyak 439 kejadian, sementara di Indonesia terjadi peningkatan serangan sejak tahun 2009 s/d tahun 2013.
Penulis belum mendapatkan informasi apakah ada respon resmi dari Pemerintah Indonesia terhadap laporan pembajakan yang dirilis oleh IMB, kecuali pendapat dari seorang praktisi hukum internasional, Rahman Fajriyansah yang menulis buku "Perompakan Kapal: Fakta atau Konspirasi Opini?".
Terkait data-data pembajakan yang dirilis oleh IMB, khususnya yang terjadi di wilayah Indonesia, Rahman mengajukan pertanyaan:
"…apakah data mengenai perompakan kapal di perairan Indonesia sebagaimana dilaporkan oleh IMO/IMB benar-benar dapat dipertanggungjawabkan validitasnya?"
Pertanyaan yang kurang lebih sama juga pernah diajukan namun oleh komentator di koran Malaysia versi online, "New Straits Times". Menanggapi hal ini, Captain Pottengal Mukundan, Direktur IMB, menjelaskan bahwa:
"We have no interest in, and are not part of any conspiracy for, unilateral action by outside states to impose their jurisdiction in the Malacca Straits or elsewhere in the world …Malaysia has had a good record in responding to these incidents, but we fear that in some coastal states this exercise could result in downgrading the law enforcement capability to deal with these serious crimes."
(Dirangkum dari beberapa sumber)
Oleh Novy Rachmat – Praktisi Asuransi Marine
Email : novy.rachmat@kbru.co.id
Email : novy.rachmat@gmail.com
About the Author
Write a Comment
Gravatars are small images that can show your personality. You can get your gravatar for free today!