Steve Jobs Mundur, Saham Apple Anjlok
Thursday, August 25, 2011, 22:29
Keputusan Steve Jobs untuk mundur dari posisinya sebagai CEO Apple mendapat tanggapan negatif dari pasar. Setelah pengumuman tersebut harga saham Apple, Kamis (25/8) anjlok tajam, dan turut mempengaruhi penurunan indeks berjangka S&P 500. Harga saham Apple membukukan penurunan sebesar 5,1% dan kapitalisasi senilai 52 miliar dolar AS hilang dari pasar saham AS.
Mundurnya Jobs sebagai CEO perusahaan yang berkali-kali masuk ke dalam daftar paling inovatif tersebut, menekan kepercayaan para pemegang saham, meskipun CEO saat ini Tim Cook telah didapuk sebagai pengganti Jobs. Hal ini memang tidak mengherankan sebab kehilangan Steve Jobs sebagai icon dari perusahaan berlogo apel yang telah digigit ini merupakan shock yang cukup besar bagi para investor.
Jobs, tidak dapat diragukan lagi, merupakan tokoh utama di balik kesuksesan Apple Inc. Harga saham Apple telah mengalami peningkatan sebesar 9020% sejak 29 Juli 1997, satu hari sebelum San Francisci Chronicle melaporkan bahwa Steve Jobs akan diangkat sebagai CEO interim.
Pada periode kepemimpinan Jobs tersebut nilai saham Apple mengalami peningkatan tajam ke 348,7 miliar dolar AS dari 2,08 miliar dolar AS. Apple bahkan mengalahkan Exxon Mobil Corp dan pada Agustus ini menjadi perusahaan paling bernilai di dunia.
Di bawah kepemimpinan Jobs, nilai saham Apple melejit kencang karena gadget-gadget yang diproduksi merupakan sebuah revolusi bagi dunia teknologi, bahkan juga telah mengubah raut wajah industri music digital dunia. Perhatian Jobs kepada detail dan penekanan kepada produk-produk yang ramah konsumen telah membuat Apple dengan mudah mengalahkan para pesaingnya, dan mengambil pangsa pasar yang loyal di kalangan konsumen gobal.
Sejalan dengan pengembangannya, Apple dengan sukses menciptakan rival dari berbagai lini bisnis, mulai dari Google hingga IBM. Sebelumnya Jobs juga pernah mengajukan cuti untuk mengatasi masalah kesehatannya, akan tetapi saat itu kepercayaan pasar tidak terguncang terlalu besar.
Pada periode Agustus – Oktober 2004 saat Jobs cuti, harga saham mengalami kenaikan sebesar 26%. Sementara pada cuti keduanya periode Januari – Juni 2009, saham Apple mengalami kenaikan sebesar 66%.
Baca selengkapnya di
http://berita.liputan6.com/read/350474/steve-jobs-mundur-saham-apple-anjlok
komentar ahliasuransi.com
adalah hal penting bagi perusahaan, terutama perusahaan-perusahaan besar untuk memiliki Entity cover for Critical Occurrence yang memberikan jaminan terhadap biaya-biaya public relations consultant untuk mengatasi kejadian kritis seperti terjadi pada Apple akibat Keputusan Steve Jobs untuk mundur dari posisinya sebagai CEO Apple silakan baca disini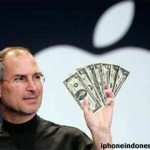 About the Author
Write a Comment
Gravatars are small images that can show your personality. You can get your gravatar for free today!