Roller coaster keluar dari rel
Monday, March 9, 2009, 17:31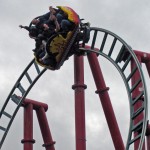 Jepang: Pada Mei 2007, roller coaster di sebuah taman hiburan di Suita, Prefektur Osaka keluar dari relnya. Seorang perempuan tewas dan 19 orang lainnya luka-luka. Kedua mobil di roller coaster derailed dan terlepas keluar lintasan. Menurut polisi, batang as kedua mobil tersebut patah sekitar 200 meter sebelum akhir perjalanannya. Roda kedua mobil dan as yang patah ditemukan di lapangan.
Pada bulan Februari 2007, taman hiburan tersebut seharusnya telah memeriksa roller coaster tsb namun karena tidak tersedia garasi, inspeksi tsb ditunda sampai 15 Mei sampai akhirnya kecelakaan tsb terjadi.

Kurangnya penanganan keselamatan dan maintenance mungkin telah menyebabkan kecelakaan
Source: Doily Yomiu,ri, 6 May 2007
Asian Casualty Report 10th Edition June 2008 – Gen Re
Picture: Google
About the Author
Write a Comment
Gravatars are small images that can show your personality. You can get your gravatar for free today!