Loss Prevention of Goods in Containers
Tuesday, January 26, 2010, 22:01
Many publications are now available on loss prevention in the field of container transport. The standards in loading and transporting containers have improved considerably – thanks to the expertise that has been built up in the inland transport sector and the advice provided by container carriers, forwarding agents, and consolidators. Marine insurers and their associations have also contributed to this development in many countries – in their own best interests.
Nevertheless, an analysis of container-related claims shows that the simple basic rules are still not always observed in what then turn out to be costly individual cases.
Ø       The first rule is to choose a good container carrier – to whom recourse can be taken if necessary – and the right type of container for the cargo involved. Although containers are basically standardized, there are many different types for every conceivable purpose. They come in many different sizes and can be tailor-made for individual cargoes.
Ø       Whether the container is loaded by the cargo owner or the forwarding agent, it must be in a flawless state of repair to be worth the money. There is absolutely no need for even relatively old containers to be out of shape or dented. The corner fittings and interior lashing points must be in good condition and the doors must close tightly. The much-cited light incidence test inside the container with closed doors is all too commonly omitted before loading commences.
Ø       The entire container, and not only the floor, should be strong enough to carry the intended cargo. It should be clean, without any trace of odours or residue from past cargoes, and should be free of nails and other old fastening material.
Ø       Although it offers additional protection, the container is not a form of packaging but a transport receptacle! Because of the different stresses encountered on the various legs, the cargo must be protected by transportation packaging that is suitable for the whole journey. Even if it is not stated in the booking or in the terms of shipment, it is quite possible that the goods will have to be unloaded temporarily in the course of transportation – during a customs inspection, for instance. So the only way to ensure real protection is to use proper seaworthy packaging.
Ø       The goods should not only be packed properly. They should also be stowed correctly so that they can withstand the considerable accelerating forces that occur on the journey. In cases of doubt, expert advice should be sought from the carrier, forwarding agent, or other specialists.
Ø       The cargo must be distributed as evenly as possible in terms of its weight and area. If different types of goods are loaded together, they must be compatible. Different types of packaging (e.g. bags and drums and crates) must be separated. Sharp-edged sides or corners should be shielded and delicate cargo cushioned. To prevent the cargo from slipping, it can be blocked or lashed down, and any free spaces in the container must be filled with old pallets, cardboard, or other material. Since extreme temperature fluctuations can never be entirely excluded, goods that are susceptible to moisture and corrosion must be protected against water, condensation, and damp air. In many cases, losses could have been prevented by using a ventilated container.
Time after time it is the simple basic rules and not specialist know-how that decide the fate of containerized goods – and consequently the results of the cargo insurer's portfolio!
Source: Munich Re Publication : "Containers"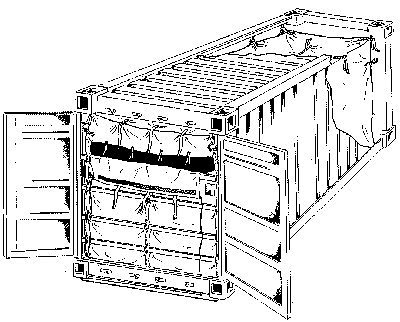 About the Author
Write a Comment
Gravatars are small images that can show your personality. You can get your gravatar for free today!