Korban Kecelakaan Tabung LPG 3 Kg Bisa Klaim Asuransi
Monday, May 17, 2010, 9:34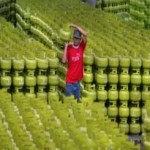 JAKARTA – Korban kecelakaan LPG 3 kg bisa mengajukan klaim asuransi. Di mana klaim bisa diajukan untuk kecelakaan diri maupun harta benda.

Dalam hal ini, PT Pertamina (Persero) sebagai pihak yang ditunjuk oleh pemerintah melaksanakan program konversi minyak tanah ke LPG akan memberikan asuransi yang disebabkan oleh kecelakaan yang diderita oleh penerima program konversi minyak tanah ke LPG 3 kg. Asuransi ini bersifat reimbursable basis.
"Asuransi diberikan kepada korban yang termasuk dalam program konversi dibuktikan dengan adanya 'Kartu Cacah' dan atau surat pernyataan resmi dari manager region pertamina setempat," ujar VP Corporate Communication Pertamina Basuki Trikora Putra dalam keterangan tertulis yang dikutip dari situs resmi Kementerian ESDM di Jakarta, Minggu (17/5/2010).

Penyediaan asuransi untuk pengguna tabung LPG 3 kg ini dilakukan Pertamina bekerja sama dengan PT Tugu Pratama Indonesia yang merupakan anak perusahaan Pertamina yang bergerak di bidang asuransi.

Polis Asuransi yang meng-cover kerugian tersebut bersifat reimbursable basis, artinya bahwa pihak tertanggung, dalam hal ini Pertamina harus terlebih dahulu melakukan seluruh pembayaran berdasarkan persetujuan dari pihak Penanggung.

Proses pergantian kerugian disertai dengan bukti-bukti dokumen kerugian yang mengacu pada sistem dan prosedur klaim penyelesaian Konversi LPG. Adapun sistem dan prosedur klaim sebagai berikut. Pertama, Pertamina menerima laporan terjadinya kecelakaan LPG dan selanjutnya melaporkan kepada pihak asuransi.

Kedua, pihak asuransi melakukan verifikasi untuk menentukan apakah kecelakan tersebut masuk dalam objek yang diasuransikan, yakni program konversi. Dimana laporan yang diverifikasi berupa tanggal kejadian, lokasi kejadian, gambaran kejadian dan objek yang mengalami kerusakan, perkiraan kerugian, cidera badan berupa nama dan salinan (foto copy) surat jaminan rumah sakit yang telah diterbitkan Pertamina serta detail kerusakan properti pihak ketiga.

Ketiga, jika klaim properti berpotensi meluas, maka akan ditunjuk pihak ahli untuk melakukan verifikasi. Keempat, setelah verifikasi selesai dan hasilnya memenuhi persyaratan, maka pihak asuransi akan melakukan proses lanjutan dan monitoring serta berkoordinasi dengan Pertamina.

Kelima, Pertamina memerintahkan pembayaran kepada penerima (korban kecelakaan) yang telah memenuhi dokumen. Antara lain, tagihan rumah termasuk bukti biaya yang telah dikeluarkan oleh korban (jika ada) Surat pembebasan tuntutan dari korban yang ditujukan ke Pertamina surat permintaan pemindahbukuan ke rekening tujuan (RS/korban), waktu pembayaran empat hari kerja setelah kelengkapan dokumen diterima.

Keenam, setelah proses pembayaran, pihak asuransi menerbitkan nota pembayaran atas nama Pertamina dan penutupan file yang berisi pemberitahuan bahwa kompensasi telah dipindahbukukan ke rekening tujuan dan kasus ditutup.(wdi)
http://economy.okezone.com/read/2010/05/16/320/333010/korban-kecelakaan-tabung-lpg-3-kg-bisa-klaim-asuransi
About the Author
4 Comments on "Korban Kecelakaan Tabung LPG 3 Kg Bisa Klaim Asuransi"
Write a Comment
Gravatars are small images that can show your personality. You can get your gravatar for free today!