Asuransi Alat Berat (Contractors' Plant & Machinery)
Saturday, July 13, 2013, 21:42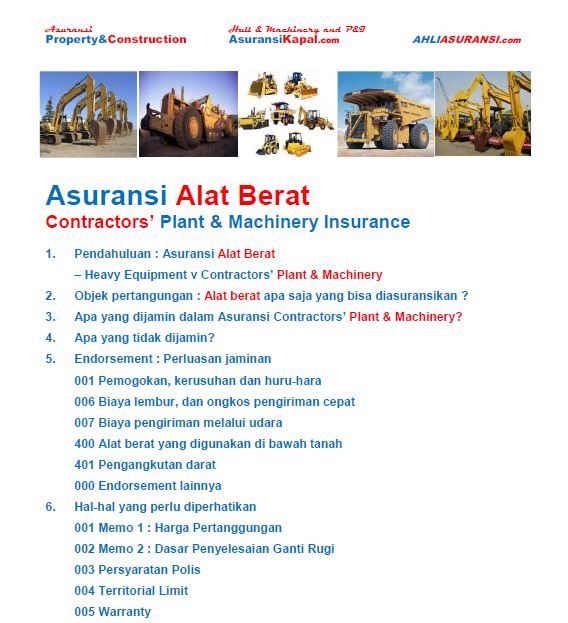 Download Proposal Training "Asuransi Alat Berat (Contractors' PLant & Machinery) di sini
1. Pendahuluan : Asuransi Alat Berat  – Heavy Equipment v Contractors' Plant & Machinery
2. Objek pertangungan : Alat berat apa saja yang bisa diasuransikan ?
3. Apa yang dijamin dalam Asuransi Contractors' Plant & Machinery?
4. Apa yang tidak dijamin?
5. Endorsement : Perluasan jaminan
001 Pemogokan, kerusuhan dan huru-hara
006 Biaya lembur, dan ongkos pengiriman cepat
007 Biaya pengiriman melalui udara
400 Alat berat yang digunakan di bawah tanah
401 Pengangkutan darat
000 Endorsement lainnya
6. Hal-hal yang perlu diperhatikan
001 Memo 1 : Harga Pertanggungan
002 Memo 2 : Dasar Penyelesaian Ganti Rugi
003 Persyaratan Polis
004 Territorial Limit
005 Warranty
7. Bagaimana cara penutupannya?
8. Bagaimana proses klaimnya?
Waktu Training : 180 menit (dari jam 09.00 s/d 12.00)
Investasi : Rp 2.000.000 (Dua juta rupiah) per orang atau Rp 10.000.000 (Sepuluh juta rupiah) per group maximum 20 orang – Biaya facilitator / tutor saja
Facilitator: IMAM MUSJAB, SE, AAIK, QIP
Tel +628128079130 or email: imusjab@ahliasuransi.com or imusjab@gmail.com
For more details about the facilitator please download MyComplete CV or visit: www.ahliasuransi.com
About the Author
One Comment on "Asuransi Alat Berat (Contractors' Plant & Machinery)"
Write a Comment
Gravatars are small images that can show your personality. You can get your gravatar for free today!