Jaringan Putus, Telkom Rugi Miliaran
Sunday, August 21, 2011, 14:34
PT Telkom rugi miliaran rupiah setelah jaringan kabel di sekitar pipa air minum PT Palyja bocor terkena ekskavator di terowongan Kuningan, Jakarta Selatan, Sabtu (20/8/2011).
Isroni (43), petugas lapangan mitra PT Telkom yang ditemui di lokasi, menjelaskan, ada satu kabel fiber optik yang putus. Kabel bergaris tengah sekitar 10 sentimeter ini berisi 256 helai serat optik. Setiap dua helai serat optik berkapasitas menghubungkan lebih dari 1.000 saluran.
"Di kawasan Jalan HR Rasuna Said ini, setiap helai serat optik digunakan maksimal oleh para pelanggan pengelola gedung-gedung tinggi. Jadi bisa dipastikan, sejak muncul keluhan sambungan putus Jumat malam, PT Telkom rugi miliaran rupiah," tegasnya.
Soal angka pastinya, Isroni tidak tahu. "Ini baru PT Telkom. Ada jaringan kabel lain milik PT Indosat yang juga putus," ungkapnya saat memperbaiki serat-serat optik yang putus milik PT Telkom.
Baca selengkapnya di:
http://megapolitan.kompas.com/read/2011/08/20/16155952/Jaringan.Putus..Telkom.Rugi.Miliaran
Pipa Pecah akibat Ekskavator JLNT
Manajer Humas Palyja, Meyritha, mengatakan, kebocoran pipa PAM diunderpass Kuningan diakibatkan mesin ekskavator yang tidak sengaja mengeruk pipa air tersebut. Akibatnya, air pun mengalir deras ke dalam terowongan itu.
"Ukuran pipanya 350 pecah karena kegaruk ekskavator," ujar Meyritha, Sabtu (20/8/2011), saat dihubungi wartawan.
Ia menjelaskan, peristiwa ini bermula pada Sabtu pukul 02.00 WIB. Saat itu, sebuah mesin ekskavator yang tengah mengerjakan proyek pembangunan jalan layang non-tol (JLNT) Kampung Melayu-Tanah Abang tidak sengaja mengeruk tanah yang di dalamnya ada pipa PAM.
Baca selengkapnya di:
http://megapolitan.kompas.com/read/2011/08/20/1153403/Pipa.Pecah.akibat.Ekskavator.JLNT
Komentar sehubungan dengan asuransi CAR:
Apakah klaim tersebut dijamin dalam asuransi CAR Re. Endorsement 102 Underground Cables, Pipes and Other Facilities? O o o tidak bisa ?! (gaya Sule) Check this out !!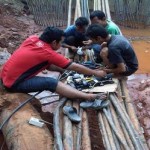 About the Author
Write a Comment
Gravatars are small images that can show your personality. You can get your gravatar for free today!