Bapepam bakal bekukan tujuh asuransi
Thursday, September 15, 2011, 6:02
Badan Pengawas Pasar Modal dan Lembaga Keuangan (Bapepam-LK) tengah menyiapkan surat pembatasan kegiatan usaha (PKU) tujuh perusahaan asuransi, Mereka tercatat masih bermodal kurang dari Rp 40 miliar.
Dari tujuh perusahaan asuransi tersebut, Kepala Biro Perasuransian Bapepam-LK, Isa Rachmatarwata mencatat, ada empat perusahaan asuransi umum dan tiga perusahaan asuransi jiwa yang belum memenuhi ketentuan permodalan minimum sesuai Peraturan Pemerintah Nomor 81 Tahun 2008 tentang Penyelenggaraan Usaha Perasuransian.
Sebelumnya, Isa menjelaskan, terdapat lima perusahaan asuransi umum yang belum mendongkrak permodalan mereka. "Namun, baru diketahui belakangan, satu perusahaan asuransi umum telah mendapat investor dan regulator temenyetujui perubahan kepemilikan saham dan modal disetor," ujarnya, kepada KONTAN, kemarin.
Satu perusahaan asuransi umum mengindikasikan bakal mengembalikan izin usaha, satu lainnya baru melaporkan mendapatkan investor baru dan prosesnya sedang berjalan. Dua sisanya, kemungkinan besar izinnya akan dicabut, karena sudah cukup lama tidak lagi beroperasi.
Di asuransi jiwa, tercatat tiga perusahaan asuransi sedang ketar-ketir. Satu perusahaan asuransi hampir dapat dipastikan akan dicabut izin usahanya, satu lagi merupakan perusahaan asuransi patungan yang masih mengupayakan suntikan modal dari induk usaha. Sementara satu sisanya, sedang dilirik untuk diakuisisi.
Hingga akhir September
Bapepam-LK memberikan waktu kepada tujuh perusahaan asuransi itu memperbaiki permodalan mereka hingga akhir bulan ini. "Kira-kira akhir September ini, kalau tidak ada kejelasan, kami akan ambil tindakan PKU," tegas Isa.
Menurut sumber KONTAN yang enggan disebut namanya, perusahaan asuransi umum yang kelihatannya tidak akan lolos dari ancaman pencabutan izin antara lain: Asuransi Chubb Indonesia. Perusahaan ini memang sudah tidak beroperasi. Selain itu, Asuransi Puri Asih sepertinya bakal mengembalikan izin. Ada pula, Asuransi Wana Mekar Handayani, yang masih belum jelas bakal diakusisi atau mengembalikan izin.
Sedangkan, di asuransi jiwa, terdapat MAA Life Assurance yang disinyalir akan mendapatkan suntikan modal dari induk usahanya di Malaysia,. Serta Bumi Asih Jaya yang sedang dilirik investor.
Selengkapnya baca:
http://keuangan.kontan.co.id/v2/read/1315358400/76778/Bapepam-bakal-bekukan-tujuh-asuransi
Komentar: lagi-lagi persyaratan permodalan, hati-hatilah memilih perusahaan asuransi, waspadalah-waspadalah..!! (gaya bang napi)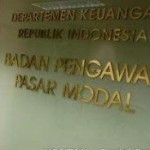 About the Author
Write a Comment
Gravatars are small images that can show your personality. You can get your gravatar for free today!