5 Kecelakaan Kapal dalam Sebulan, Salah Siapa?
Thursday, September 29, 2011, 17:09
Kecelakaan terjadi di pelabuhan, perairan Sulawesi, Kalimantan, Bali, sampai Madura.
Lagi-lagi kecelakaan kapal terjadi. Hari ini, kejadian nahas itu menimpa Kapal Motor Kirana IX di Pelabuhan Tanjung Perak, Surabaya. Kapal tersebut terbakar, dan akibatnya sebanyak 8 penumpang tewas terinjak-injak di tengah kepanikan.
Anggota Komisi Perhubungan DPR, Saleh Husin, menyesalkan terjadinya kecelakaan tersebut. Menurutnya, insiden itu menampar 'roadmap to zero accident' yang digembor-gemborkan pemerintah, dalam hal ini Kementerian Perhubungan.
"Saya prihatin. Musibah kapal di Tanjung Perak itu tidak semestinya terjadi," kata Saleh di Gedung DPR RI, Senayan, Jakarta, Rabu 28 September 2011. Apalagi, ini bukan merupakan kecelakaan kapal pertama, melainkan yang kelima dalam bulan ini.
Sebulan lalu, tepatnya 27 Agustus 2011, Kapal Motor Windu Karsa tenggelam di perairan Kolaka, Sulawesi Tenggara, dan menyebabkan 10 orang tewas. Pada 21 September 2011, Kapal Motor Sri Murah Rezeki tenggelam di perairan Nusa Lembongan, Klungkung, Bali, dan menyebabkan 14 orang tewas.
Hanya berselang 2 hari kemudian, yaitu tanggal 24 September 2011, Kapal Motor Tunggal Putri tenggelam di perairan Pulau Raas, Kepulauan Kangean, Sumenep, Madura, dan menyebabkan 13 orang tewas. Dua hari selanjutnya, 26 September 2011, Kapal Motor Marina Nusantara tenggelam di perairan Pulau Kadap, perairan Barito, Kalimantan Selatan.
Dan hari ini, lagi-lagi dua hari sesudahnya, giliran Kapal Motor Kirana IX yang terbakar. Saleh menegaskan, Kementerian Perhubungan harus mempertanggungjawabkan kecelakaan demi kecelakaan kapal yang terjadi dalam sebulan belakangan ini. Sebab, rentang antara kecelakaan satu dan lainnya sangat berdekatan.
Kelalaian Regulator
Saleh menduga, ada kelalaian regulator maupun petugas di lapangan. Komisi V DPR pun berniat untuk memanggil pihak-pihak terkait sehubungan dengan insiden kecelakaan kapal yang marak terjadi. "Kami ingin mendapatkan gambaran masalahnya untuk dianalisa," kata dia.
Ia menambahkan, Kemenhub perlu mengadakan perbaikan menyeluruh dalam manajemen transportasi laut, darat, maupun udara. Sebelumnya, Kemenhub berjanji mengevaluasi dan menata ulang jalur pelayaran di sejumlah wilayah di Indonesia.
"Alur pelayaran akan kami tata ulang, termasuk dengan peningkatan pemahaman pelayaran rakyat, di samping pelayaran yang sudah terjadwal. Selama ini, kecelakaan yang terjadi di perairan diduga akibat minimnya pengawasan di sekitar lokasi," kata Wakil Menteri Perhubungan, Bambang Susantono, saat meninjau perairan di wilayah Provinsi Jawa Timur, Selasa 27 September 2011. (ren)
http://nasional.vivanews.com/news/read/250815-sebulan-ada-5-kecelakaan-kapal–salah-siapa-
Komentar : NO COMMENT
Tegakkan Peraturan & Keselamatan di Laut. Mari Berasuransi !!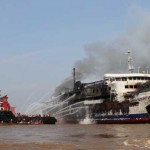 About the Author
Write a Comment
Gravatars are small images that can show your personality. You can get your gravatar for free today!