Standard Modes of Transport: FCL vs LCL
Monday, January 25, 2010, 9:17
The transport chain involves carrying containers by road, rail, and inland waterways from the point of loading to the port of dispatch and from the port of discharge to their final destination. There are a number of new expressions and definitions associated with multimodal and intermodal transport:
FCL (full container load)
means that the consignor's goods fill the container. The full container is delivered to the container terminal and collected from there.
LCL (less than container load)
means that the consignor's goods do not fill the container and are transported along with other cargo in the container. The container carrier is responsible for stowing and/or unloading these goods
An FCL/FCL shipment is consequently a door-todoor container shipment, while an LCL/LCL shipment means a pier-to-pier (or depot-to-depot) shipment.
Mixed forms are naturally also possible, such as door-to-pier or pier-to-door (LCL/FCL, FCL/LCL). These generate other problems relating to the precarriage and on-carriage stages, packaging, handling, and the risk of theft and pilferage. Moreover, the container terminal and the CFS need not be located inside the port terminal but may be in the vicinity or even further inland.
In the case of FCL, the container is "stuffed" (and the cargo secured) by the shipper, i.e. the dispatcher, and "stripped" by the recipient of the goods. Usually, the container leaves the port or terminal area to be stuffed or stripped and then proceeds to the corresponding pre-carriage or on-carriage port or terminal.
The loading and unloading of LCL containers at the port terminal or the corresponding inland terminal (CFS), on the other hand, is the responsibility of the carrier, who organizes (and pays for) these operations. The carrier is either a shipping company, or a container carrier that does not operate ships of its own and merely rents slots on vessels instead (non-vessel operating common carrier), or a consolidator (forwarding agent).
Source: Munich Re Publication : "Containers"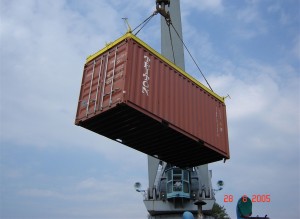 About the Author