QBE SME Public Liability
Friday, June 14, 2013, 21:51
QBE SME Public Liability adalah Asuransi Tanggung Jawab Hukum Publik Untuk Usaha Kecil Menengah
Jenis Usaha yang Dijamin
·     Kantor.
·     Restoran, Snacks stand, Takeaway & Cafe.
·     Salon Kecantikan & Pangkas rambut.
·     Warnet & Wartel.
·     Toko baju, buku, mainan, elektronik, souvenir, perabot, optik, apotik, olahraga, kain, tempat kursus, ketrampilan, photo studio, money changer dan berbagai macam.
·     Gudang pribadi (non-hazardous).
·     Klinik dan praktek dokter.
·     Showroom kendaraan (tidak termasuk bengkel).
Jaminan Polis:
Menjamin Tanggung Jawab Hukum (TJH) Tertanggung untuk memberikan kompensasi terhadap pihak ketiga (termasuk biaya-biaya hukum) dalam hal Tertanggung menyebabkan cidera badan, kematian atau kerusakan, kerugian harta benda pihak ketiga yang disebabkan oleh kegiatan usaha atau bisnis yang diasuransikan.
Plus Benefit Tambahan: tanpa premi tambahan
·     TJH Lampu / Iklan (Neon and Ads Signs)
·     TJH Fasilitas Parkir (Car Park)  5% limit 
·     TJH Pameran (Exhibitions – 14 hari)
·     TJH Aktivitas Sosial & Rekreasi (Sport & social Facilities)
·     TJH Keracunan Makanan (Food Poisoning)  5% limit
·     TJH Bongkar Muat (Loading and Unloading)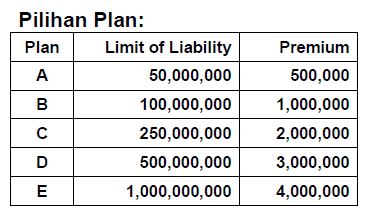 Dalam mata uang Rupiah plus Biaya Polis dan Materai Rp 50.000
Excess : Rp2,500,000 untuk kerusakan dan kerugian harta benda pihak ketiga saja
*Untuk jenis usaha lainnya atau jika omset pendapatan / penjualan bruto lebih dari Rp10 Milyar harap menghubungi kantor QBE Pool terdekat.
Bagaimana cara penutupannya?
Hubungi agen asuransi anda atau kantor QBE Pool terdekat atau lengkapi proposal singkat berikut ini.
Download Brosur dan Proposal Form di sini
Ditulis kembali oleh Imam MUSJAB dari QBE SME Public Liability
Tel +628128079130 email at imusjab@qbe.co.id or imusjab@gmail.com
About the Author
One Comment on "QBE SME Public Liability"
Write a Comment
Gravatars are small images that can show your personality. You can get your gravatar for free today!