Private Training with AHLIASURANSI.COM
Saturday, April 28, 2012, 22:48
Accident & Casualty, Engineering Insurance, Liability Insurance, Marine Insurance, Others, Property Insurance, Reinsurance, Risk Management, Schedule of Training, Training
Private Training with AHLIASURANSI.COM
Read English or Bilingual version
Menawarkan konsep baru dalam pelatihan asuransi
Time flexibility: anda bebas memilih waktu yang sesuai, sesi satu hari penuh, atau sesi 3 x 2 jam, hari kerja, sabtu, minggu, setiap hari, atau setiap minggu anda yang tentukan.
Place flexibility: in-house, di kantor, di klas, atau di kafe, anda hanya perlu telpon untuk ketemu dimana.
Subject flexibility: anda bebas memilih subjek yang di-inginkan untuk meningkatkan kemampuan anda dari prinsip sampai dengan spesialis asuransi.
One-o-One: ini adalah private training, anda bebas mendiskusikan apa saja yang anda ingin ketahui
Starts Now! Tidak perlu menunggu kapan klas dimulai, satu peserta-pun dapat dimulai sekarang.
Free consultation: emails, telpon, chating, bbm kapan saja, dimana saja, a life-time supports.
Free, Flexible, Full Support @ affordable price: investasi Rp.2,500,000 flat untuk setiap subjek.
Pembahasan komprehensif atas prinsip-prinsip, wordings, klausul per klausul, study-kasus, review-klaim, pertimbangan underwriting dan perhitungan premi, pelatihan ini sangat cocok buat Anda, Underwriters, Agents, Brokers, Kontractors, Konsultan Keuangan atau siapa saja yang ingin mengetahui lebih jauh tentang asuransi
Pendaftaran dan keterangan lebih lanjut:
kapan saja melalui telpon +628128079130 or email: imusjab@gmail.com
1.     Principles and Practices of Insurance (Prinsip-Prinsip dan Praktek Asuransi)
2.     Fire Insurance (Asuransi Kebakaran)
3.     Industrial / Property All Risks (IAR/PAR)
4.     Motor Vehicle Insurance (Asuransi Kendaraan Bermotor)
5.     Personal Accident (Asuransi Kecelakaan Diri)
6.     Travel Insurance (Asuransi Perjalanan)
7.     Money Insurance (Asuransi Uang)
8.     Surety Bond and Bank Guarantee
9.     Contractors / Erection All Risks (CAR/EAR)
10.  Contractors Plant and Machinery (CPM)
11.  Comprehensive Machinery Insurance (CMI)
12.  Marine Cargo Insurance (Asuransi Pengangkutan Barang)
13.  Hull & Machinery (Asuransi Kapal)
14.  Protection & Indemnity (P&I)
15.  Freight Forwarders Liability (FFL)
16.  Charterers Liability
17.  Yacht & Boat Insurance
18.  Builders Risks (Asuransi Pembangunan Kapal)
19.  Ships Repairers Liability (SRL)
20.  Containers Insurance
21.  Marine Professional Negligence Insurance
22.  Terminal Operators Liability
23.  Transport Operators Liability
24.  Comprehensive General Liability
25.  Public & Product Liability
26.  Workmen's Compensation & Employers Liability
27.  Professional Indemnity (PI)
28.  Directors & Officers Liability (D&O)
29.  Association Liability (Not-for-profit)
30.  Medical Malpractice Insurance
31.  Information & Communication Technology Liability (ICT)
32.  Financial Institution Liability (FIPI)
33.  Claims & Adjustment
…and many more @ your choice
Free, Flexible, Full Support @ affordable price: investasi Rp.2,500,000 flat untuk setiap subjek.
Registration and further information:
Any time please give me a call at +628128079130 or email: imusjab@gmail.com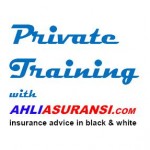 About the Author
Write a Comment
Gravatars are small images that can show your personality. You can get your gravatar for free today!