Polisi Ungkap Penyebab Kebakaran M City – Medan
Saturday, December 5, 2009, 22:39
Liputan6.com, Medan: Kepolisian Daerah Sumatra Utara mengungkap penyebab kebakaran di pusat hiburan M City, Medan, Sumatra Utara, yang menewaskan 20 orang. Sabtu (5/12), polisi menangkap seorang tersangka kasus tersebut.
Sukarman, seorang pekerja harian lepas, diringkus di kediamannya di kawasan Batang Kuis, Deli Serdang. Pria berusia 33 tahun itu mengaku, kebakaran terjadi karena perbuatannya. Namun, menurutnya, tidak sengaja.

Kasus ini terungkap, setelah tim gabungan Polda Sumut dan Poltabes Medan melakukan pemeriksaan terhadap 12 orang saksi di lokasi kejadian. Dahlan, pegawai bagian bar, mengungkapkan, api berasal dari lantai tiga tempatnya bekerja, sekaligus lokasi tewasnya sebagian besar tamu yang sedang karaoke di ruang KTV [baca: Korban Tewas Kebakaran di Medan 20 Orang].
Berdasarkan keterangan Dahlan dan saksi lainnya, polisi membekuk Sukarman. Menurut Sukarman, sebelum kejadian ia bersama dua rekannya tengah memasang karpet dengan menggunakan lem. Mereka menemukan karpet yang berserat. Bukannya dipotong dengan gunting, mereka justru menggunakan korek. Seketika api menyala dan menyambar sisa lem yang mengandung bahan kimia.
Direktur Reserse Kriminal Polda Sumut Komisaris Besar Polisi Agus Andrianto mengatakan, tersangka terancam dijerat pasal berlapis karena kelalaiannya yang menyebabkan korban jiwa.
Sementara itu, pascakebakaran Gedung M City dinyatakan tertutup untuk umum. Petugas kepolisian memasang garis pembatas polisi di sekitar lokasi kejadian.(IAN)
http://berita.liputan6.com/daerah/200912/253502/Polisi.Ungkap.Penyebab.Kebakaran.M.City
http://berita.liputan6.com/daerah/200912/253488/Korban.Tewas.Kebakaran.di.Medan.20.Orang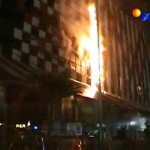 About the Author
Write a Comment
Gravatars are small images that can show your personality. You can get your gravatar for free today!