Konsorsium Asuransi Nelayan Dibentuk
Thursday, July 14, 2011, 9:40
Sebanyak tujuh perusahaan swasta asuransi membentuk konsorsium asuransi penjamin kapal nelayan supaya kapal ikan laku dijadikan agunan kredit. Langkah itu untuk memecahkan kebuntuan akses permodalan nelayan ke perbankan.
Direktur Multhi Artha Insurance Broker Anjar R Suwarno, di Jakarta, Senin (4/7), mengemukakan, konsorsium perusahaan asuransi itu terdiri atas PT Mega Pratama, PT Asuransi Takaful Indonesia, PT Asuransi Himalaya Pelindung, PT Asuransi Binagriya Upakara, Malaysian Assurance Alliance Berhad, PT Asuransi Intra Asia, dan PT Asuransi Jasa Tania Tbk.
Proyek percontohan asuransi kapal nelayan itu telah berlangsung empat bulan di sentra penangkapan ikan di Kabupaten Indramayu, Jawa Barat. Untuksementara, penjaminan diberikan terhadap kapal ikan kayu yang berbobot mati di atas 20 gross ton (GT).
"Kami membantu pengajuan kredit nelayan ke bank dengan memberi jaminan terhadap kapal kayu nelayan. Dengan demikian, kapal kayu nelayan bisa dijadikan agunan kredit," ujar Anjar.
Konsorsium asuransi bagi nelayan tersebut menjamin kecelakaan serta kerusakan kapal dan mesin kapal yang diagunkan ke bank. Dengan penjaminan tersebut, ujar Anjar, setiap nelayan bisa mendapat kredit hingga Rp 1 miliar untuk tenor kredit selama lima tahun.
Adapun nilai premi asuransi kapal nelayan adalah 3,5 persen dari nilai kapal. Nilai kapal akan dihitung menyusut selama tahun kedua sampai tahun kelima pinjaman. Tahun kedua, misalnya, nilai kapal dihitung menyusutmenjadi 80 persen dari nilai semula, sedangkan tahun ketiga menjadi 60 persen.
Meski demikian. Anjar mengakui, kapal nelayan belum bisa menjadi agunan utama kredit perbankan. Kredit beragun kapal ikan kerap masih harus dipadukan dengan agunan berupa aset tanah atau rumah.
Relatif aman
Branch Manager Bank Jawa Barat cabang Indramayu, Beny Riswandi, mengemukakan, hingga akhir Juni 2011, pihaknya telah menyalurkan 12 kredit nelayan senilai Rp 15 miliar dengan pola agunan kapal yang berasuransi. Tahun 2010, total kredit perikanan di Bank Jabar Indramayu berkisar Rp 25 miliar.
Beny menambahkan, kapal ikan berbobot mati di atas 20 GT dinilai relatif aman secara operasional dengan tingkat penda-patan cukup besar. Dalam lima tahun terakhir, tercatat hanya satu kapal ikan berbobot di atas 20 GT mengalami kecelakaan di laut
Ketua Himpunan Nelayan Seluruh Indonesia (HNSI) Indramayu Ono Surono mengemukakan, terobosan asuransi kapal nelayan itu sangat membantu nelayan dalam memperoleh kredit perbankan.
Selama ini, perbankan ragu menerima kapal nelayan sebagai agunan. Bahkan, kapal seharga Rp 1 miliar-Rp 1,5 miliar per unit tidak laku diagunkan.
Meski demikian, pihaknya berharap asuransi juga menyentuh nelayan-nelayan kapal kecil melalui fasilitasi pemerintah. Sebab, nelayan kecil sangat membutuhkan permodalan untuk biaya operasional, baik itu perbekalan, balian bakar minyak, maupun peralatan tangkap.
(LKT) Kompas 5 Juli 2011 hal.19
http://cetak.kompas.com/read/2011/07/05/03403521/konsorsium.asuransi.nelayan.dibentuk…
Komentar saya hanya satu kata: Luaaarrr Biasaa (Berani)!!!
Ilustrasi / gambar : internet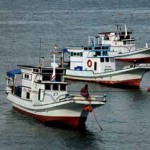 About the Author
5 Comments on "Konsorsium Asuransi Nelayan Dibentuk"
Write a Comment
Gravatars are small images that can show your personality. You can get your gravatar for free today!