Builder's Risks Insurance – Quotation
Friday, May 15, 2009, 15:46
Here is sample of a Quotation of Builder's Risks Insurance
Builder's Risks Insurance covers all risks subject to the Institute Clauses for Builders' Risks (1/6/88) – Clause 351 from laying of keel to completion including risks of construction, launching, sea trials and delivery to owners.
Builder's Risks also covers Pollution Hazard, Faulty Design, General Average and Salvage, Collision Liability, Protection & Indemnity (P&I), and Sue and Labour.
Names, objects, values and rates appear in this Quotation are for illustration only
Should you have any inquiry please give me a call
By IMAM MUSJAB
Tel +628128079130
Please click to view enlarge or follow the link to download
Wordings & Clauses – Builders' Risks
Picture, source: naval-technology.com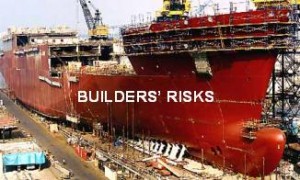 About the Author
3 Comments on "Builder's Risks Insurance – Quotation"
Write a Comment
Gravatars are small images that can show your personality. You can get your gravatar for free today!