Bincang Klaim Asuransi Marine
Sunday, May 14, 2017, 9:32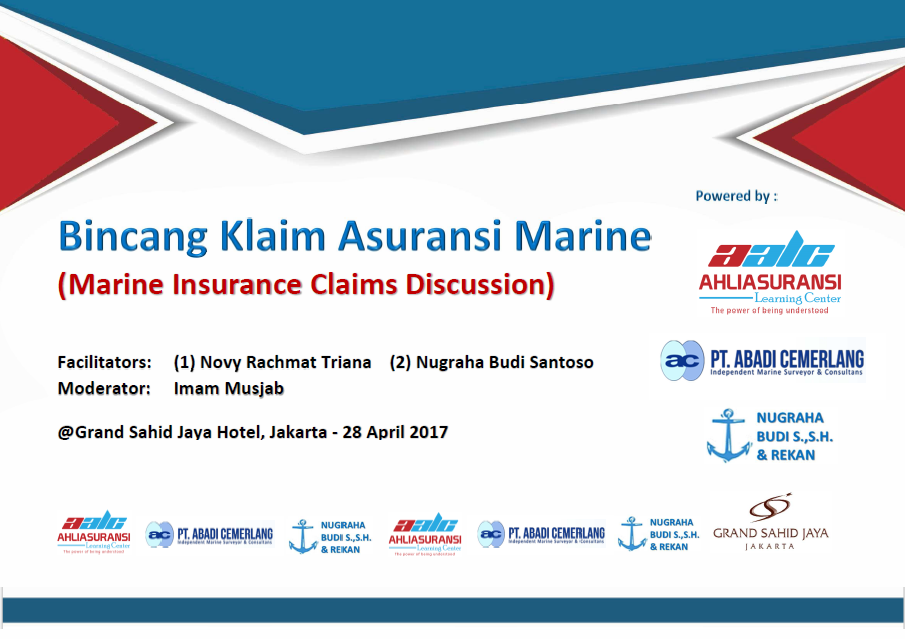 Bincang Klaim Asuransi Marine (Marine Insurance Claims Discussion)
Kasus bangkrutnya HANJIN (Financial default)
Kasus CALEDONIAN SKY (Kerusakan terumbu karang Raja Ampat)
Kasus PIRACY (Pembajakan kapal dan terorisme)
Kasus Tuntutan Hukum dan Recovery Claim
Facilitators:         (1) Novy Rachmat Triana    (2) Nugraha Budi Santoso
Moderator:        Imam Musjab
@Grand Sahid Jaya Hotel, Jakarta – 28 April 2017
14.00 – 18.00 Bincang Klaim Asuransi Marine @Andrawina Room
18.00 – 20.00 BBQ Under The Stars by the Pool @3rd Floor
Acara diskusi yang diselenggarakan oleh AALC (AHLIASURANSI LEARNINGCENTER) berjalan sukses dan seru, diikuti lebih dari 100 (seratus) orang praktisi asuransi marine dari berbagai perusahaan asuransi, reasuransi, pialang asuransi, pialang reasuransi, agen asuransi, surveyor, praktisi hukum dan mahasiswa.
Diskusi dikemas dengan bincang santai dan interaktif sesama praktisi asuransi menyoroti kasus-kasus terbaru seperti kasus bangkrutnya perusahaan pelayaran raksasa Hanjin yang berdampak serius pada klaim asuransi marine, kasus tuntutan hukum atas kerusakaan terumpu karang Raja Ampat pada kapal Caledonian Sky, kasus pembajakan kapal dan terorisme serta kasus-kasus tuntutan hukum dan proses recovery claim, dipandu oleh praktisi asuransi dan hukum asuransi marine berpengalaman.
Acara ini juga sebagai ajang networking para praktisi dan pemasar asuransi, juga merupakan sarana promosi yang ideal untuk produk dan jasa perusahaan.
Terima kasih kepada semua pihak yang telah membantu terselenggaranya acara ini, terutama untuk facilitators rekan Nugraha Budi Santoso, Novy Rachmat Triana, PT ABADI CEMERLANG dan Sahid Hotel.
Sampai jumpa di acara-acara berikutnya!
Salam Sukses.
Imam Musjab
About the Author
Write a Comment
Gravatars are small images that can show your personality. You can get your gravatar for free today!