Mudik Lebaran..? Awas Kebakaran dan Kemalingan..!!!
Monday, September 14, 2009, 10:03
Kebakaran dan Kemalingan sering terjadi ketika rumah ditinggalkan para penghuninya untuk mudik lebaran…di kota-kota besar seperti Jakarta, ketika semangat kebersamaan dan bertetangga dikalahkan oleh sikap individualisme, rumah kadang ditinggalkan tak berpenghuni untuk beberapa hari lamanya. 
Korsleting listrik (short circuit) adalah faktor utama yang sering "dipersalahkan" sebagai penyebab  terjadinya kebakaran, karena didak ada penghuninya, korsleting atau kebocoran arus listrik tidak dapat terdeteksi sedini mungkin.
Kemalingan atau kebongkaran juga sering menjadi berita surat kabar ketika rumah tidak ada yang menjaganya di hari lebaran.
Lindungan rumah dan harta benda anda dengan Asuransi Property All Risks yang menjamin risiko-risiko:
v       Kebakaran, Petir, Ledakan, Kejatuhan Pesawat Terbang dan Asap
v       Kerusuhan, Pemogokan, Perbuatan Jahat dan Huru Hara
v       Kemalingan atau Kebongkaran
v       Angin Topan, Badai, Banjir dan Kerusakan akibat Air
v       Gempa Bumi, Letusan Gunung Berapi dan Tsunami
v       Tanah Longsor dan Pergerakan Tanah
v       Tertabrak kendaraan, tertimpa pohon, antenna dll
v       Kecelakaan atau kerusakan lainnya
Asuransi Property All Risks juga memberikan benefit tambahan seperti:
Ø       All Other Contents (Isi atau perlengkapan lainnya)
Ø       Architects, Surveyors and Consulting Engineers (Biaya Arsitek, Survey dan Konsultan)
Ø       Claims Preparation (Biaya Pengurusan Klaim)
Ø       Fire Brigades Charges (Biaya Pasukan Pemadam Kebakaran)
Ø       Fire Extinguishing Costs (Biaya Pemadam Kebakaran)
Ø       Impact by own vehicle (Tabrakan oleh kendaraan sendiri)
Ø       Outbuilding (Bangunan tambahan)
Ø       Removal of Debris (Biaya pembersihan puing)
Ø       Reinstatement value  (Biaya penggantian baru tanpa depresiasi)
Ø       Dan banyak lagi benefit tambahan lainnya
Ilustrasi Perhitungan premi:
Untuk Rumah Tinggal, Kantor, Ruko dan Gudang mulai dari  0.1% to 0.15%
v       Bangunan : Rp 400,000,000
v       Perabot (isi) : Rp 100,000,000
v       Total : Rp 500,000,000
v       Premi 0.1% x Rp 500,000,000 = Rp 500,000 per tahun
*Rate 0.1% untuk PAR Tidak termasuk Gempa Bumi
*Rate 0.15% untuk PAR termasuk Gempa Bumi
Ayo tunggu apalagi…, Anda hanya perlu menelpon kami dan memberitahukan objek, lokasi risiko dan harga pertanggungan, untuk mendapatkan perlindungan Asuransi Property All Risks ini.
IMAM MUSJAB
Tel: +628128079130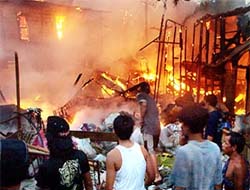 About the Author
One Comment on "Mudik Lebaran..? Awas Kebakaran dan Kemalingan..!!!"
Write a Comment
Gravatars are small images that can show your personality. You can get your gravatar for free today!