Importance of shipping methods: Containers, Breakbulk and Bulk
Thursday, January 28, 2010, 13:44
It is important to understand the various shipping methods used in marine transport to determine the level of risk involved. The following pages outline the common methods.
Containers
Containers is the principal method for shipping most types of general cargo. The two methods of shipping in containers are:
♦ FCL (Full Container Load)
where the shipper (which may be a supplier of goods or a freight consolidator) hires or is supplied a container and is responsible for stowing goods into the container. The container is uplifted from the shippers premises and is transported directly to the consignee overseas. The container is sealed and unopened during transit except for customs inspection purposes.
♦ LCL (Less than Container Load).
Used for small shipments of cargo, too small to require their own container. Shipments are delivered to a container terminal where they are consolidated by the shipping line or their agents with other cargo for the same destination and placed in a container. On arrival at the overseas container terminal the shipments are deconsolidated and transported to their final destination non-containerised. Such shipments are transported non containerised at either end of their journey.
Types of Containers
Cargo is often described as containerised however there are different types of container and it is important, especially for high value and project type risks, to understand the differences between them. The principal types of container are explained in the table below. For further information on containers, container vessels and container shipping in general it is recommended that you study the Munich Reinsurance publication titled "Containers".
General Purpose I.S.O Container
I.S.O stands for International Standards Organisation who have recommended a series of external and internal dimensions and maximum weights for containers eg 20' x 8' x 8'. A general purpose container is fully enclosed with solid walls, roof and floor. It has solid doors at one end which when closed should form a watertight seal. These containers are generally built of steel though some may have a steel frame and fibreglass walls/roof etc. Containers are typically 20 feet or 40 feet long and either 8 feet or 8 feet 6 inches high.
Open Top Containers
This is effectively a general purpose container without a roof. Cargo is protected by means of a tarpaulin in place of a solid roof. The advantage of this type of container is that cargo such as heavy or over height machinery, which can be better handled by lifting in and out, can be accommodated. The disadvantage is that tarpaulins may be ripped, dislodged or ill – fitting allowing water and sea spray to access the interior of the container causing serious damage to the contents. Nevertheless this type of container is popular due to its versatility and is often used for general cargo as well.
Flat Rack Containers
Hardly a container at all but it consists of the floor (bed) of a container which conforms to standard dimensions in terms of length and width and has lifting points at each corner allowing lifting by standard container cranes and equipment. These containers are used principally for oversize and heavy equipment which will not fit the dimensions of a normal container. Stowage is often on deck to allow for easier stacking.
Reefer Containers
Reefer is short for refrigerated. Very similar in appearance to a general purpose container however there the similarity ends. A reefer is an insulated box capable of maintaining goods at predetermined temperatures through the use of either clip on or integrated plug in refrigeration units. Modern reefer containers have an integrated refrigeration unit which is "plugged in" to the electricity supply provided by a vessel, depot or vehicle, enabling constant temperatures to be maintained. Some containers rely on portable clip on refrigeration units. Reefer containers are sometimes used to carry general cargo when there is an imbalance of reefer imports and exports, however when used for this purpose the container must have returned to ambient temperature otherwise heavy condensation may occur resulting in damage to cargo.
Tanktainers
Used for the carriage of liquids in bulk, a tanktainer is simply a tank supported within the frame of a general purpose container. Thus the tanktainer may be lifted by conventional container equipment and stowed on vessels just like any other container. Tanktainers are however often stowed on deck especially if carrying any liquid considered hazardous.
Breakbulk
Breakbulk is the method by which goods were traditionally shipped prior to containerisation. Goods are packed in cartons, cases, crates or bales and then loaded on to pallets to facilitate lifting and stowing. Goods stowed within a vessel's hold and lifted in and out using vessel's own gear or shore cranes. Liquids are usually shipped in drums.
Bulk
Ores, fertilizers, grains, coal are shipped in bulk. This means they are loaded direct into the carrying vessel via chutes, conveyors and the like and unloaded by grabs. Liquids are usually shipped in tankers dedicated to a trade, such as crude oil tankers and petroleum products tankers. Parcel tankers have the ability to carry different types of liquids on the same voyage by having each of the tanks totally separate from the others and separate handling/pumping arrangements for each tank. Small bulk liquid cargoes can also be carried in containers known as tanktainers.
Summarized from many sources
Any questions or comments please feel free to give me a call
IMAM MUSJAB – 08128079130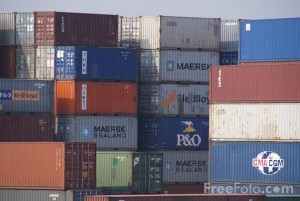 About the Author
Write a Comment
Gravatars are small images that can show your personality. You can get your gravatar for free today!