Asuransi rem jualan produk asuransi rangka kapal
Saturday, September 3, 2011, 11:09
Pelaku industri asuransi umum semakin berhati-hati menjalankan bisnis. Mereka terus mengurangi produk yang sudah tidak lagi menguntungkan. Salah satunya, produk marine hull atau asuransi rangka kapal.
Industri yang sudah mengurangi porsi produk ini antara lain PT Asuransi Wahana Tata dan PT Asuransi Umum Bumiputera Muda 1967 (Bumida Bumiputera). Pengurangan secara bertahap, caranya sangat selektif terhadap calon konsumen.
Direktur Pemasaran Wahana Tata, M. Th. Ratnawati mengatakan, marine hull memiliki tingkat klaim inggi. Jika salah perhitungan atau asal-asalan menerima konsumen, biaya klaim membengkak. Ujung-ujungnya perusahaan merugi.
Demi meminimalisir kerugian, Wahana Tata menerapkan aturan nan ketat. Antara lain, hanya menerima sistem fleet, yaitu jumlah kapal minimal 10 unit. Selain itu, jenis kapal yang diproteksi hanyalah kapal besi, bukan kapal kayu. "Usia kapal tak boleh lebih dari 10 tahun," katanya kepada KONTAN Jumat (19/8).
Dengan berbagai langkah pengetatan itu, perolehan premi marine hull menyusut 10%, dari Rp 30 miliar menjadi Rp 27 miliar per akhir Juni 2011 (yoy). Produk ini menyumbang 2% dari total premi sebesar Rp 1,3 triliun. Sementara, total klaim mencapai 60% dari perolehan premi.
Hingga akhir tahun ini, Wahana Tata mengincar premi marine hull Rp 60 miliar. Ratna optimistis target tersebut bakal tercapai karena ada renewa  business atau perpanjangan polis di Agustus dan September. Total kontribusi keduanya Rp 30 miliar.
Reasuransi asing
Bumida Bumiputera juga tak ngoyo menggarap bisnis ini. Direktur Pemasaran Bumida Bumiputera, Joko Hananto mengatakan, pihaknya mengalami kerugian di marine hull sepanjang semester I 2011. Tercatat perolehan premi Rp 2 miliar, sedangkan nilai klaim Rp 3,2 miliar.
Kerugian karena anak usaha AJB Bumiputera ini relatif santai menggarap marine hull. Perolehan premi anjlok 66% dibandingkan periode sama tahun sebelumnya yang membukukan premi senilai Rp 6 miliar. Di sisi lain, nilai klaim sangat besar.
Di Bumida, kontribusi premi marine hull tak sampai 1%, sedangkan kontribusi klaim 3,73% dari total klaim. Wajar, bila Bumida malas menggarap serius produk tersebut. Joko juga mengatakan saat ini banyak perusahaan asuransi umum yang mengurangi bisnis marine hull.
Ia juga mengatakan, bisnis marine hull agak sulit mengandalkan reasuransi lokal. Maklum, kapasitas reasuransi lokal terbatas. Maka itu, Bumida banyak menggunakan reasuransi asing untuk produk ini. Artinya, pengeluaran lebih besar.
Padahal bila menggunakan reasuransi lokal, jika ada keterlambatan klaim, mudah bernegosiasi. "Bila menggunakan reasuransi asing, jika ada hal-hal yang tak berjalan sesuai rencana maka kita harus mengeluarkan biaya tambahan," jelasnya kepada KONTAN, Kamis lalu (18/8)
Dicopy paste dari:
http://keuangan.kontan.co.id/v2/read/1313994785/75929/Asuransi-rem-jualan-produk-asuransi-rangka-kapal
Komentar: Wah rupanya sudah banyak yang menyerah..!! makanya nasabah harus extra hati-hati..!!!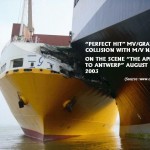 About the Author
Write a Comment
Gravatars are small images that can show your personality. You can get your gravatar for free today!